Get ready for a delicious mouthful of avocado chia seed pudding—a fun and nutrient-packed treat. This vegan breakfast (or treat) combines heart-healthy avocados, fiber-rich chia seeds, and a hassle-free preparation to make the perfect spoonful!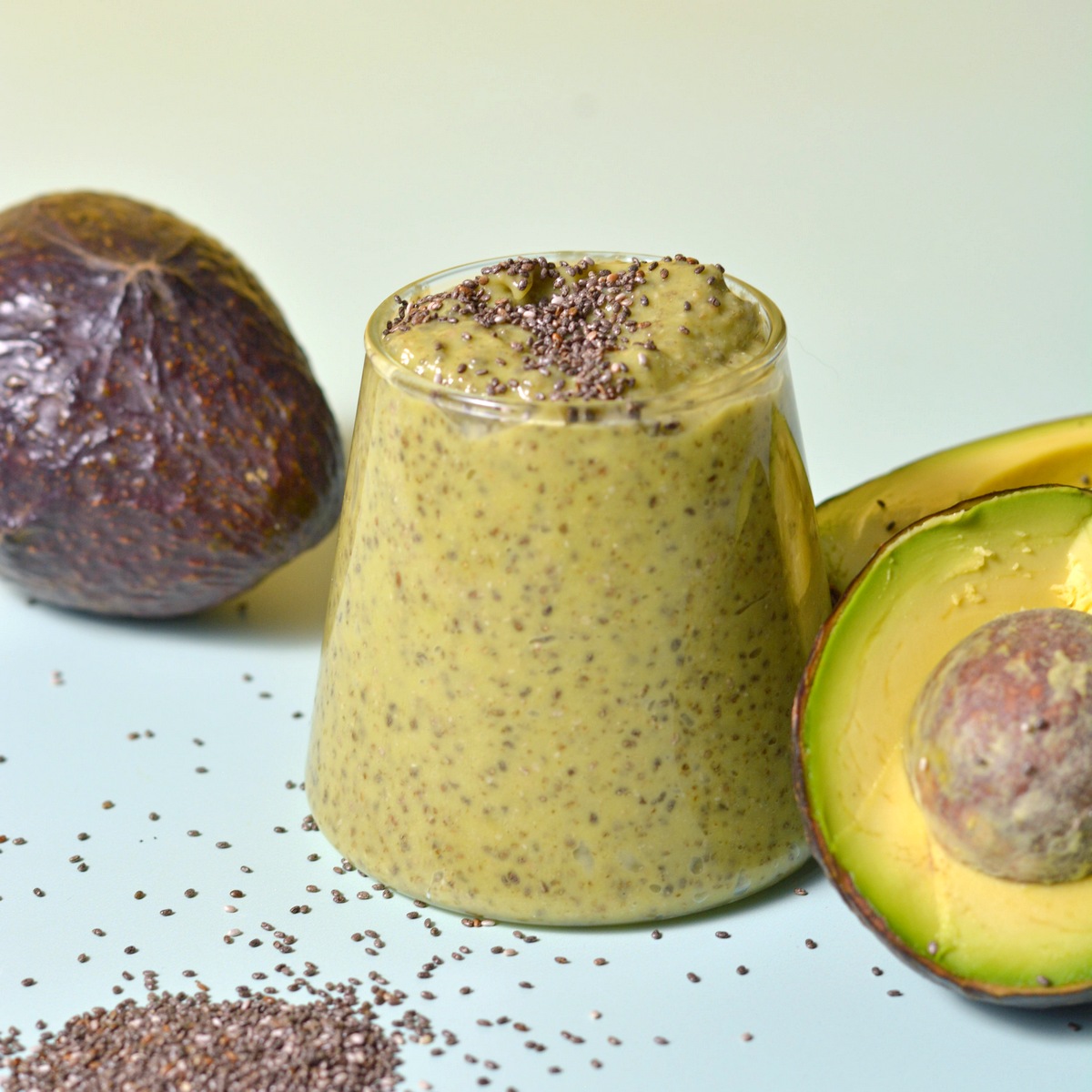 Table of Contents
why you need this avocado chia pudding recipe!
Not only is this pudding delicious to eat, but it's also loaded with nutrients and surprisingly straightforward to make.
Superfood Nutrition: This isn't just a pudding; it's a super-pudding! The avocados provide heart-healthy fats, and the chia seeds are packed with fiber. A dessert that's actually good for you - can you believe it?
Vegan and you wouldn't even know it! Forget about pudding mixes; this recipe is all about fresh ingredients. Plus, it's dairy-free, making it a fantastic dessert option for our vegan friends or those with lactose intolerance.
Fast and easy: This pudding comes together in a flash and is customizable making it a great way to meal prep. Leaving more time to enjoy each spoonful and less time spent sweating in the kitchen.
ingredients and substitutions
All substitutions are a 1:1 substitute unless otherwise noted. See the recipe card for quantities.
Avocado: If avocados aren't your thing or you're in a pinch, ripe bananas can be a great substitute, offering a different but equally creamy texture. Although, then it wouldn't really be avocado chia seed pudding would it? Also note, that bananas will get brown faster than avocados in this pudding.
Milk: We use unsweetened plant-based milk like almond milk, oat milk, or coconut milk to keep this recipe dairy-free. 
Chia Seeds: If you can't find chia seeds, flax seeds are a good alternative. They also absorb liquid, but note that the end result will have a slightly different taste and a more gritty yet viscous texture.
Agave:  If you don't have agave on hand, honey makes a good substitute (though the recipe will no longer be vegan). You could also use maple syrup or a sugar substitute like stevia, adjusting to taste.
Vanilla: You can substitute vanilla extract with almond extract for a slightly nutty flavor. Otherwise, you can leave this out in a pinch.
Salt
Topping Ideas: There are so many yummy topping options for avocado chia pudding, here are just some ideas for optional toppings.
Berries
Mango
Banana
Peaches (my personal favorite!)
Yogurt (plain or Greek yogurt)
Cacao nibs
Coconut cream
Coconut flakes
Nut butter (cashew butter, almond butter, or peanut butter)
This recipe has not been tested with other substitutions or variations. If you replace or add any ingredients, please let us know how it turned out in the comments below!
recipe testing notes
Throughout our testing of this avocado chia seed pudding, we learned some key things that worked and didn't work. Here are the key takeaways!
Blending is key: I tried making this chia seed pudding without blending the chia seeds and just mixing them in with the avocado-blended mixture. Two things - one, it took more time because I had to blend and mix and two, the chia seeds were not evenly distributed resulting in not a great texture. Blending the chia seeds results in the perfect smooth pudding (thanks to their expansion) every time and it means you don't have to let it sit for a couple of hours; it only has to sit for an hour!
The avocado must be ripe and at the bottom: If the avocado is not ripe enough then it is harder to blend. No matter how ripe, though, it is super helpful to put the avocado in first because blenders tend to bounce the fruit around rather than blend it. By putting it at the bottom, the weight of the other ingredients helps to keep it pushed down during blending.
step-by-step of how to make pudding
Be sure to scroll to the recipe card for the full chia pudding with avocado recipe!
Step one: prep avocado
Cut it in half and remove the pit.
Step two: blend
Add everything to the blender, avocado first.
Step three: serve
Top with your favorite toppings and enjoy!
prefer to watch a video of how to make it?
helpful tips
This is a pretty easy recipe, but to make sure it goes off without a hitch, here are some expert tips!
Avocado not ripe yet? Do this!
It's crucial to use a ripe avocado for this pudding to have the right texture. To speed up ripening, place the avocado in a brown paper bag or cardboard box on the counter. A hard avocado should ripen by the next day with this method.
Want extra green pudding?
Avocados naturally oxidize and turn brown as they are exposed to air (this is still totally delicious and safe to eat though!). This pudding does not turn brown until day 3, but if you want to extend that, you can add 1 tablespoon of lemon juice. I find this makes the flavor not as sweet so I prefer to just eat it in the first three days.
common questions
Can I make this pudding ahead of time?
Of course! In fact, we recommend making this delicious recipe at least an hour ahead to allow the pudding to chill and the flavors to meld together. It's also a great breakfast to prep the night before.
What's the best way to serve this pudding? 
This pudding is best served chilled. You can add a variety of toppings, such as fresh fruits, nuts, granola, chocolate chips, or a sprinkle of coconut flakes.
Is this recipe suitable for people on a diet?
Absolutely! This recipe is rich in healthy fats and fiber, making it a good fit for many diets, including vegan and gluten-free. As with all foods, it should be consumed as part of a balanced diet.
What do chia seeds and avocados do for you?
Chia seeds are an excellent source of omega-3's, protein, and fiber. While avocados are packed with antioxidants, more healthy fats, and calcium! These make this one delicious and healthy breakfast!
Chia Seed Pudding Variations
Protein Avocado Chia Seed Pudding: Try adding Fairlife protein shake in place of milk in either plain or chocolate flavor. You could also add unflavored collagen powder for added protein. I don't like to add regular protein powder because I find it to be too sweet, but you certainly can try it!
Chocolate Avocado Pudding: Add 2 tablespoons of unsweetened cocoa powder for a decadent chocolate pudding. You may need to add a touch more sweetener to balance the bitterness of the cocoa. Chocolate chia pudding is super tasty with fresh strawberries!
Tropical Avocado Chia Seed Pudding: Use coconut milk and top with a handful of diced mangoes and pineapple for a tropical spin on the pudding. Garnish with toasted coconut flakes.
storage tips
Fridge: Store the pudding in an airtight container. It will keep in the fridge for up to 3 days.
Freezer: This pudding doesn't freeze well due to the avocado, so it's best to enjoy it fresh.
Reheating: No reheating is necessary! Enjoy this pudding chilled straight from the fridge.
Ways to Use Leftovers:
Smoothie Bowl Base: Use the leftover pudding as a base for a nutrient-dense smoothie bowl. Top with your favorite fresh fruit, nuts, and seeds for a delicious and satisfying breakfast.
Healthy Pancake Topping: Switch up your pancake game by using the pudding as a healthy topping. The creamy texture of the pudding will add a tasty and healthy twist to your morning pancakes.
Fruit Dip: Transform your pudding into a fun and healthy fruit dip. Mix the pudding with half yogurt, and half chia seed pudding to make a delicious fruit dip.
more avocado recipes
Did you try this and love it? Leave us a ⭐️ rating, we would love to hear from you!
Recipe
Print Recipe
Vegan Avocado Chia Seed Pudding (easy 5-minute recipe!)
This Avocado Chia Pudding recipe is a nutrient-rich powerhouse! Plus, it's delicious, super easy, and meal-prep friendly!
Ingredients
1

Avocado

2

cups

Milk

½

cup

Chia Seeds

¼

cup

Agave

½

teaspoon

Vanilla

¼

teaspoon

Salt
Instructions
Add all ingredients to a blender. Blend until well combined, about 30 seconds to 1 minute.

Pour into serving bowls or airtight containers (if meal-prepping) and let sit in the fridge for one hour to cool.

Eat plain, or top with whatever your heart desires! See our notes below for topping suggestions.
Notes
Topping Ideas: There are so many yummy topping options for avocado chia pudding, here are just some ideas for optional toppings.
Berries

Mango

Banana

Peaches (my personal favorite!)

Yogurt (plain or Greek yogurt)

Granola

Cacao nibs

Chocolate

Coconut cream

Coconut flakes

Honey

Nut butter (cashew butter, almond butter, or peanut butter)
Nutritional information is an estimate and for informational purposes only.
See the post for substitution options and storage notes. 
Nutrition
Calories:
301
kcal
|
Carbohydrates:
30
g
|
Protein:
9
g
|
Fat:
18
g
|
Saturated Fat:
4
g
|
Polyunsaturated Fat:
6
g
|
Monounsaturated Fat:
6
g
|
Trans Fat:
0.03
g
|
Cholesterol:
15
mg
|
Sodium:
199
mg
|
Potassium:
515
mg
|
Fiber:
11
g
|
Sugar:
16
g
|
Vitamin A:
282
IU
|
Vitamin C:
8
mg
|
Calcium:
290
mg
|
Iron:
2
mg