If you're a coffee lover looking to take your caffeine game to the next level, then avocado coffee might just be your new favorite drink! Not only does it offer a unique taste, but it also provides a creamy texture and health benefits that will make you want to jump on the avocado coffee bandwagon right away!
Table of Contents
why this coffee is awesome!
Avocado coffee is more than just a sweet treat. It's packed with healthy fats from ripe avocados, gives us that creamy avocado goodness, and includes coffee, which perks you up with a sustained energy boost and the perks of caffeine. Here are three more awesome reasons why you should give avocado coffee a try:
Quick and Easy: This recipe requires minimal ingredients and can be whipped up in no time. With just a few simple steps, you'll have a delightful cup of avocado coffee ready to fuel your day.
Customizable: Whether you prefer your coffee drinks on the sweeter side or love the robust flavor of premium coffee, avocado coffee can be tailored to your taste. You can adjust the sweetness with a touch of agave or maple syrup and experiment with different coffee flavors to find your perfect match.
Healthier Options: Avocado coffee can be made with healthier alternatives like oat milk or almond milk, making it a great option for those looking to avoid dairy or wanting to try something different. Plus, it's free from added sugars, providing a guilt-free indulgence.
What is Avocado Coffee and its Origin?
Avocados have long been enjoyed in tropical climates as a sweet treat. One way they are used in Indonesia and Vietnam is with coffee. The drink is known as Es Alpukat Kopi or avocado juice and is avocado blended with coffee, coconut milk, and condensed milk for sweetness. (source)
More recently, a cafe in Australia made an avocado latte famous and called it Avolatte. This drink is a hollowed out avocado skin filled with a latte and beautiful latte art. Now this Avolatte is popping up all over coffee shops in Australia and beyond. (source)
ingredients and substitutions
All substitutions are a 1:1 substitute unless otherwise noted. See recipe card for quantities.
Avocado: The star of the show, this creamy fruit adds a luscious texture and an abundance of monounsaturated fats to your coffee. Just make sure it's a ripe avocado.
Substitutions: Sorry, no substitutions for avocado in this avocado coffee!
Coffee: Use your favorite coffee beans, brewed to your desired strength. Whether you prefer a moka pot, espresso machine, or classic drip coffee maker, the choice is yours!
Substitutions: While I prefer dark roast coffee, you can use decaf, light roast, Instant coffee, green coffee beans, or even black tea to make this tasty drink! Premade or store-bought iced coffee is a great option!
Oat milk: Oat milk is my favorite plant-based milk because of its texture and sustainability. Be sure to check out these posts all about oat milk and oat milk in coffee if you want to learn more!
Substitutions: For a dairy-free and creamy option, unsweetened oat milk is our preferred option. However, you can use any unsweetened milk of your choice, including cow's milk, almond milk or coconut milk. You can also use chocolate milk and not add the agave.
Agave: Because cocoa powder can have a slight bitterness and avocado can have an earthy flavor, we need sweetness to balance the flavors. Agave is a great option for a natural sweetener that is easy to use and found in most stores now.
Substitutions: Alternatively, you can use maple syrup or honey to suit your taste.
Cocoa powder: We like to think of this coffee as a mocha avocado coffee because avocado and chocolate go SO WELL together!
Substitutions: We used standard Hershey's cocoa powder, but you can use any kind of cocoa powder. You can also use a sweetened version like Ovaltine or hot chocolate powder and just not add the agave.
This recipe has not been tested with other substitutions or variations. If you replace or add any ingredients, please let us know how it turned out in the comments below!
recipe testing notes
Throughout our testing of this avocado coffee recipe, we learned some key things that worked and didn't work. Here are the key takeaways!
With and without chocolate: We tried this recipe without chocolate first. While creamy and delicious, it was a bit too earthy. But, after adding cocoa powder the drink blossomed into an insanely good blended avocado coffee!
Make this in advance: Ok, so my FAVORITE part of this recipe is that you can make it advance and the texture and consistency literally stays the exact same for 3 full days!! This works because avocado is a fibrous fruit that absorbs liquid when blended. When we blend with ice that then melts, the avocado fibers absorb the liquid, thus maintaining the creamy texture.
how to make this - step by step
Be sure to scroll to the recipe card for the full avocado coffee recipe!
Step one: Deseed the avocado and remove the flesh from the skin.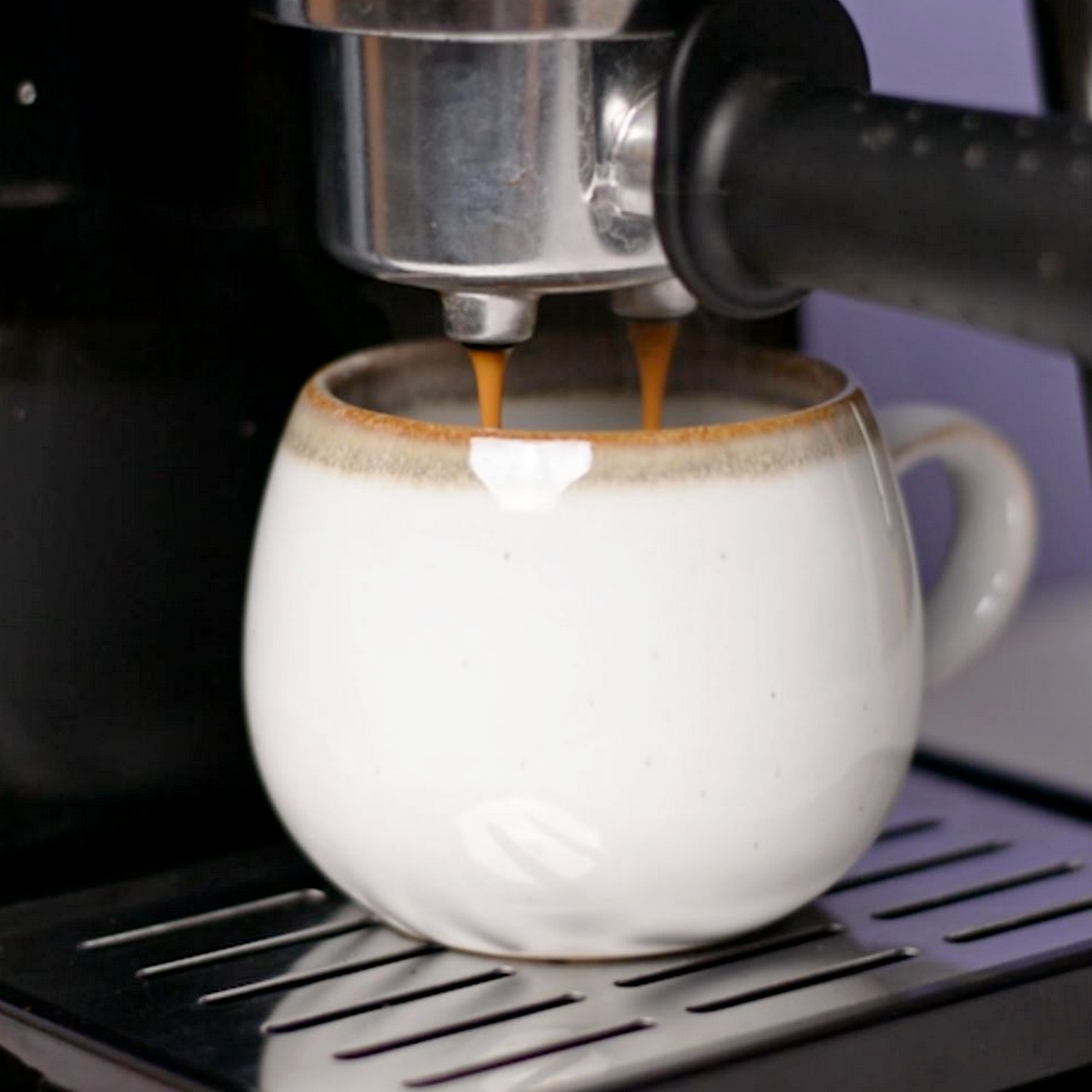 Step two: Brew coffee as desired. I like to use leftover coffee that I keep in the fridge from the day before to keep it cold or Instant coffee. Otherwise, if using hot coffee, check out my tip below for using hot coffee.
Step three: Add everything to a blender (avocado first!) and blend until smooth! If you are struggling to get the avocado to blend because it is bouncing around, try using a fork to mash it in the blend (with the blender off) or if your blender has a center stick, use that to hold it down.
Step Four: Pour the avocado coffee into a glass or mug. Garnish with a sprinkle of cocoa powder or a drizzle of chocolate syrup if desired. Serve and enjoy!
watch how to make this - step by step
expert tips for a joy-filled experience
To make sure you get the best possible coffee, here are some expert tips!
Tip 1: Hot Coffee Use
If using hot coffee, I recommend pouring the oat milk (cold, from the fridge) into the coffee to cool it down. You could pour it over ice first but typically that waters down the coffee and we don't want that!
Tip 2: How to Adjust Consistency
If you prefer a thinner consistency, add a bit more coffee or milk. If you like it thicker and more indulgent, add less liquid. Tailor it to your desired texture!
common questions
Why do people put avocado in coffee?
Because avocado adds tons of creaminess making this basically a coffee avocado milkshake without actually needing ice cream. Plus, it's healthy and won't melt in your drink!
Can I use frozen avocado? 
Fresh avocado is recommended for the best flavor and texture. Frozen avocado may alter the consistency and flavor of the drink.
Can I use sweetened condensed milk instead of agave?
Absolutely! If you prefer a sweeter avocado coffee, sweetened condensed milk can be used as a substitute for agave. Just adjust the amount based on your desired level of sweetness.
Does avocado coffee taste like avocados?
Surprisingly, avocado coffee has a subtle avocado flavor that blends harmoniously with the coffee. It enhances the creaminess without overpowering the coffee's boldness.
recipe variations
Coconut Avocado Coffee: Transport yourself to the tropical paradise with a coconut-infused version of avocado coffee. Replace the oat milk with coconut milk and sprinkle some toasted coconut flakes on top for an exotic touch.
Vanilla Avocado Coffee: Elevate the flavors of your avocado coffee by adding a splash of vanilla extract. The aromatic notes of vanilla complement the creamy avocado and rich coffee perfectly.
Protein avocado Coffee: For a drink that will fuel you through the day or a workout, trying replacing the milk, cocoa powder, and agave with a chocolate protein drink like Fairlife Protein.
storage tips
This avocado coffee is a miracle in that it saves well, doesn't need to be reblended, and doesn't melt for 3 full days! Here's exactly how to save leftovers.
Fridge: Avocado coffee can be stored in an airtight container in the refrigerator for up to 3 days. Give it a good stir before enjoying it but there is no need to blend it again!
Freezer: Unfortunately, avocado coffee doesn't freeze well due to the avocado's texture. It's best enjoyed fresh.
Ways to Use Leftovers
Avocado Smoothie Boost: Transform your leftover avocado coffee into a nutritious smoothie by blending it with a banana, a handful of spinach, and a scoop of protein powder. It's a fantastic way to start your day with an essential brain-boosting treat!
Avocado Coffee Popsicles: Pour your leftover avocado coffee into popsicle molds and freeze them for a refreshing summer treat. These coffee-infused popsicles will keep you cool and satisfied on hot days.
fun fact
Did you know that avocado is known as "jus alpukat" in Indonesia? This Indonesian beverage has gained popularity across the world for its unique flavor and health benefits. (source)
more avocado recipes
Did you try this and love it? Leave us a ⭐️ rating, we would love to hear from you!
Recipe
Print Recipe
Iced Avocado Coffee Recipe (with Chocolate!)
This avocado coffee is made in a blender with just a handful of ingredients. It's a creamy and smooth iced drink loaded with healthy fats and caffeine.
Ingredients
½

avocado

8

oz

coffee

½

cup

ice

¼

cup

milk

5

tablespoon

agave

or pure maple syrup

1

tablespoon

cocoa powder
Instructions
Brew coffee as desired and de-seed avocado.

Add the avocado fruit to the bottom of the blender (important!), then add the ice, cocoa powder, milk, coffee, and agave. Blend until creamy. About 1 minute.

Pour into a glass and enjoy!
Notes
Nutritional information is an estimate and for informational purposes only. See the post for substitution options and storage notes. 
Nutrition
Calories:
537
kcal
|
Carbohydrates:
95
g
|
Protein:
5
g
|
Fat:
18
g
|
Saturated Fat:
4
g
|
Polyunsaturated Fat:
2
g
|
Monounsaturated Fat:
11
g
|
Cholesterol:
7
mg
|
Sodium:
46
mg
|
Potassium:
770
mg
|
Fiber:
9
g
|
Sugar:
75
g
|
Vitamin A:
246
IU
|
Vitamin C:
28
mg
|
Calcium:
103
mg
|
Iron:
1
mg