This Avocado Protein Shake provides a delicious way to get a huge boost of nutrients and energy! It features healthy ingredients such as creamy avocado, protein-packed peanut butter, and even more protein from vanilla protein powder.
This healthy avocado shake recipe checks all the boxes. If you're looking for extra creaminess then the avocados will make your day! Want a healthy breakfast? The spinach and protein powder have you covered. This drink is as smooth as a decadent milkshake and tastes like you're drinking a glass full of peanut butter cups, but is as healthy as can be!
Ok, have you ever heard someone say "if a shake is green or looks bad, it's healthy"? Maybe I just say that to Dan all the time... I do not trust his protein shakes. But, Dan knocked it out of the park with this recipe!! It is SO creamy with healthy fat from an avocado, and absolutely packed full of protein from peanut butter and protein powder!
Table of Contents
 Avocado Shake Ingredients
All substitution options are a 1:1 substitution unless noted otherwise.
Avocado: Avocados are filled with healthy fats, so any substitutes will be a slight downgrade in that respect. However, one fresh banana or frozen banana substituted for one ripe avocado would also make for a good shake.
Peanut Butter: Peanut butter powder can be substituted for natural peanut butter at ½ to 1. Raw peanuts can also be substituted at 1:1. If using raw peanuts, we recommend blending them separately first so make sure they are blended enough. You can also use a different nut butter such as almond butter or cashew butter!
Almond Milk: Any kind of milk can be a substitute for almond milk. We also like to use flax milk, oat milk, coconut milk, and regular milk! If you want additional vanilla flavor, then unsweetened vanilla almond milk is also a good substitute. Check out this post on oat milk substitutes for more information about plant-based milk!
Spinach: Kale can be substituted for spinach, or spinach can also be left out altogether. Spinach adds great nutrients to make more healthy shakes but doesn't impact the flavor much. Did you know ½ cup of spinach provides 500% of your daily value of Vitamin K?
Vanilla Protein Powder: A different flavor protein powder could be used but will change the shake quite a bit. For example, chocolate protein powder can be used but you'll end up with a peanut butter chocolate avocado shake, which still tastes great! Protein powder can also be left out, but if so you should add an extra tablespoon of honey.
Agave: Maple syrup could be substituted for agave. We always like to use natural sugar as opposed to added sugar that's heavily processed.
Cinnamon: This is the secret ingredient that ties the flavors together. No substitute for this!
Ice Cubes: No substitute for this. We recommend using ice cubes for a refreshing, cold shake, but they can be omitted if you desire!
Add-Ins: Some additional add-ins to consider if you're looking to boost your green shakes, even more, include chia seeds, cacao nibs, cacao powder, flax seeds, and dark cocoa powder.
How to Make This - Step by Step
Step One: Add all ingredients to your blender and blend until smooth, usually 1-2 minutes.
Step Two: This shake can be sipped straight out of your favorite glass. It can also be made into a shake bowl with your favorite toppings such as granola, nuts, banana slices, and whatever else you want!
Watch How to Make This - Step by Step
Quick Facts and Common Questions
Can this avocado shake be enjoyed the next day?
This avocado shake is a great meal prep option. We'd recommend putting the shake in a sealed container in the fridge and to drink within two days.
What does adding avocados to a shake do?
Adding avocados to a shake makes for a creamier, thicker shake due to the high amount of fat and fiber in the avocado. In our opinion, having the right thickness and creaminess is what makes for such delicious shakes!
Why did my avocado shake turn brown?
Avocados contain an enzyme that reacts with oxygen when the inside is exposed to air. This process turns the color of the avocado from green to brown.
What are the best ways to combine nuts with fruits in a shake?
When using whole, raw nuts in a shake it is best to blend the nuts first. This will ensure they are chopped into a fine powder that will get distributed evenly throughout the shake and will be free of chunks. After you blend the nuts, add the rest of your ingredients and blend again!
How can I make my shake blend better?
The biggest factors to make your shake blend better are the amount of liquid you use and the order that you put your ingredients into the blender. Putting your solids into the blender first, then any powders, and then pouring your liquid on top will make your shake blend better. Also, be sure to use enough liquid! If your shake isn't blending very well, adding more liquid will help.
Fun Fact!
Avocados: Avocados have a high-fat content. Specifically, they're high in monounsaturated fat, which is good for you! This fat is good for you because it helps lower bad cholesterol when eaten in moderation. Avocados are also low in sugar and high in fiber. This combination helps you feel full for longer. On top of all these great benefits, avocados also have nearly 20 vitamins and minerals. That's why they're a superstar food! (source)
Try these other healthy recipes:
Did you make this and love it? Leave us a review, we'd love to hear from you!
Recipe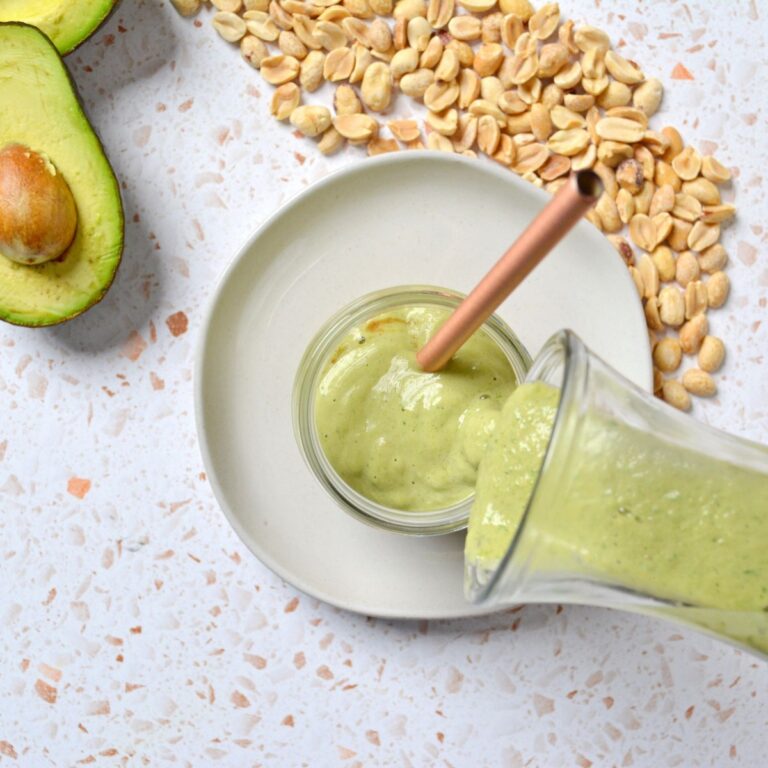 Print Recipe
Avocado Protein Shake
Ingredients
1

Avocado

¼

cup

Peanut butter

2

cups

milk

1

scoop

vanilla protein powder

1

teaspoon

cinnamon

2

tablespoon

honey

½

cup

spinach

(optional)

½

cup

ice

(optional)
Instructions
Add all ingredients to a blender or food processor.

Blend until smooth, usually 1-2 minutes. Then, enjoy!
Nutrition
Calories:
625
kcal
|
Carbohydrates:
49
g
|
Protein:
27
g
|
Fat:
40
g
|
Saturated Fat:
10
g
|
Polyunsaturated Fat:
6
g
|
Monounsaturated Fat:
20
g
|
Cholesterol:
60
mg
|
Sodium:
286
mg
|
Potassium:
1154
mg
|
Fiber:
9
g
|
Sugar:
34
g
|
Vitamin A:
1248
IU
|
Vitamin C:
12
mg
|
Calcium:
425
mg
|
Iron:
1
mg