Ever wonder what the difference between a Hass avocado and any other avocado is? Well, this helpful article is going to cover everything you need to know about hass avocados vs avocados.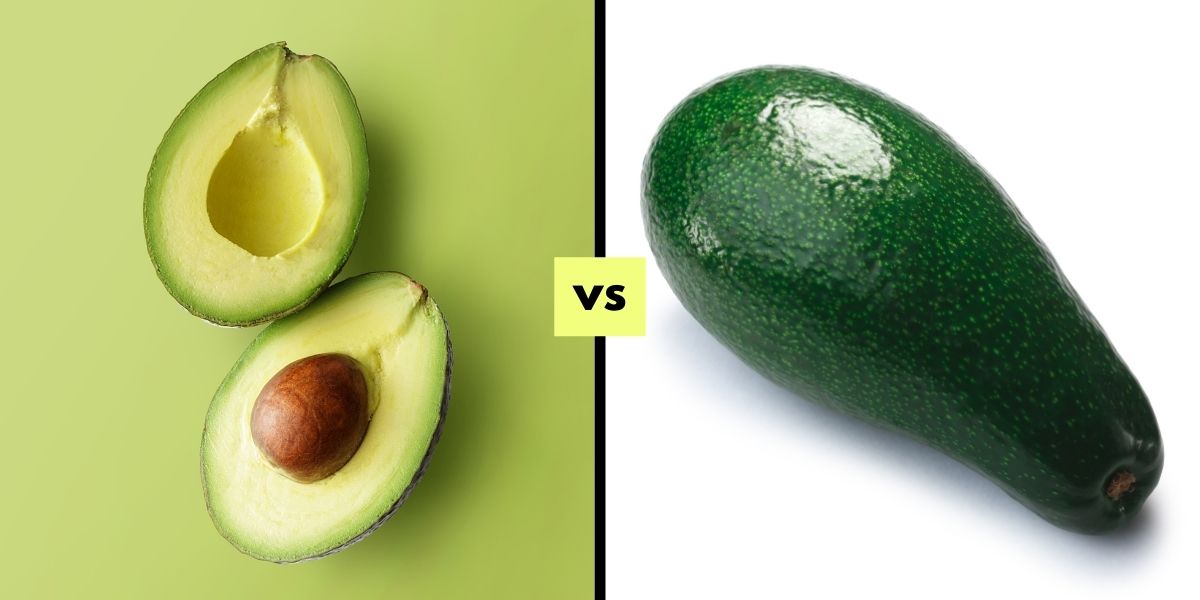 what is an avocado?
To start, I should define what an avocado is. An avocado is the broad category for the avocado fruit. It's a pear-shaped fruit that has a bright green, soft, and creamy flesh, a large, brown pit, and a dark green to black pebbly skin. Different types of avocados are grown all over the world, including the United States, Mexico, Peru, and more.
Avocados have many taste benefits and health benefits, including:
Nutty flavor
Creamy texture
A ripe avocado can be used in sweet or savory dishes. The most famous dish of this century being avocado toast, aka the food of millennials! And if you want more information on avocados, check out our avocado 101 post for all the details.
the hass avocado
The Hass avocado is arguably the most well-known avocado on the market and therefore one of the most popular avocados. They fill the shelves of grocery stores because of their long shelf life and are easier to ship because of their tough, thick skin. The Hass avocado is a relatively new avocado breed, with the first tree being planted by Rudolph Hass in Ventura, Ca in 1926 according to Smithsonian Mag.
For this reason, it's often referred to as California avocados, and the California Avocado Commission named Carpinteria, Ca (which is right outside of Ventura) the avocado capital of the US. I should note that there is a Florida hass variety now but it's not as commonly found. Florida avocados are mainly fuerte avocados.
It wasn't until the 1950s that's popularity grew. The Hass avocado took a while to catch on because when it's ripe, the skin is black, not green. And naturally, consumers thought black skin meant the avocado was bad, not good like the green avocados they were used to. Besides that, Hass avocados have a couple of telltale signs that set them apart from other varieties.
Size: Generally, they are medium in size (about the size of a baseball) that is a shaped like a pear (this is the main difference between hass avocados and other varieties)
Pit: It has a larger pit as compared to a Pinkerton avocado which has a small seed or pit.
Color: Are dark green, boarding on black when ripe
Texture: It has a creamier texture than previous varieties of avocados and it has a rich flavor when ripe. It can be stringy when sourced off-season
​in conclusion
With so many varieties of avocados that have been perfected over the years, most avocados don't have any significant differences in taste and texture. The only really noticeable difference between the most popular variety, the Hass avocado, and others is the size.
So when trying to decide between the different varieties of avocados, it really comes down to personal preference and availability. You can't go wrong with any that are in store, as long as they are ripe!
And, if you're looking for avocado recipes to use your Hass avocado, I've got you covered!