Need a quick, delicious, and healthy lunch? Try this Avocado Tuna Sandwich! This sandwich is packed with protein, laced with crunchy cucumbers and tangy red onion, and has the perfect creamy texture thanks to an avocado!
Table of Contents
why you need this sandwich!
Being a California native who doesn't like mayo, I have a lot of experience in using avocado to replace or hide mayonnaise. In particular using avocados in tuna sandwiches to replicate that creamy texture while masking the taste of mayo. This avocado tuna sandwich is creamy, delicious, filled with healthy fats and fiber, and as my husband says "really really good"!
But don't just take my husbands word for it, here are more reasons to make this avocado tuna sandwich recipe!
Quick: This tuna avocado salad sandwich comes together in 10 minutes. This includes chopping, toasting the bread, and serving!
Protein Packed: Tuna is naturally high in protein and packed with Omega's. A 4 oz serving of canned tuna packs 24 grams of protein!
Can be scaled: If you need more or less, you can easily scale this recipe up or down. This is super helpful for having friends over. Just whip up a big bowl and keep it in the fridge until everyone is ready to eat.
ingredients and substitutions
All substitutions are a 1:1 substitute unless otherwise noted. See recipe card for quantities.
Canned Tuna: We like to use Chicken of the Sea (white albacore tuna), plain tuna packed in water. Tuna is high in protein, shelf stable until opened, and cheap to buy making it perfect to keep on hand!
Substitutions: You could try using another canned fish, like canned salmon but we have not tried it. Canned chicken would also be good!
Avocado: The star of the show! Avocado adds creaminess without being heavy. Because we use avocado, we need less mayo than a typical tuna sandwich. It also adds lots of healthy fats and the delicious and subtle flavor of avocado.
Substitutions: We use 1 medium Hass avocado, but you can use 2 mini avocado or half of a large one. Any variety will work.
Mayonnaise: Even with the avocado, we need a little bit of mayo to help the tuna stick together. We prefer to use paleo may from Primal Kitchen because it is made with avocado oil (we are avocado foodie after all).
Substitutions: Any mayo you like can be used. If not dairy free and looking for more protein, you can also try using plain Greek yogurt.
Red Onion: I love the tang and crunch of a little red onion. Just be sure to chop it super small!
Substitutions: I do not recommend using other onions because it's the tang that is so delicious! Chives, radishes, or garlic scapes would be good options if you do not have a red onion. Or, you can leave it out.
Cucumber: I love adding a little cucumber for crunch - much better than relish! Just make sure they are chopped super small.
Substitutions: We used mini cucumbers but you can use half of an English cucumber or half of a standard cucumber.
Salt & Pepper: These seasonings enhance the overall taste of the sandwich. Feel free to adjust the amounts based on your personal preference.
Substitutions: Sorry, no substitutions for these.
Sourdough: The tang of toasted sourdough is so delicious and makes the perfect base for an avocado tuna sandwich.
Substitutions: You can use whole grain bread, lettuce wraps, or tortilla chips in place of sourdough.
This recipe has not been tested with other substitutions or variations. If you replace or add any ingredients, please let us know how it turned out in the comments below!
recipe testing notes
Throughout our testing of this avocado tuna sandwich, we learned what worked and didn't work. Here are the key takeaways!
Mashed versus slices: We tested this filling with both mashing the avocado and just placing slices on top. We enjoyed the mashed avocado better because it was easier to eat, added to the creaminess, and tasted better!
More tuna for more yum! We tested this recipe with varying amounts of tuna and finally settled on adding 3 cans of tuna. This gave it the perfect creamy texture but still made enough to feed 2-3 people.
how to make this - step by step
Be sure to scroll to the recipe card for the full tuna sandwich recipe!
Step one: Prep
Finely chop the cucumbers and red onions. Drain the tuna and toast your sourdough bread.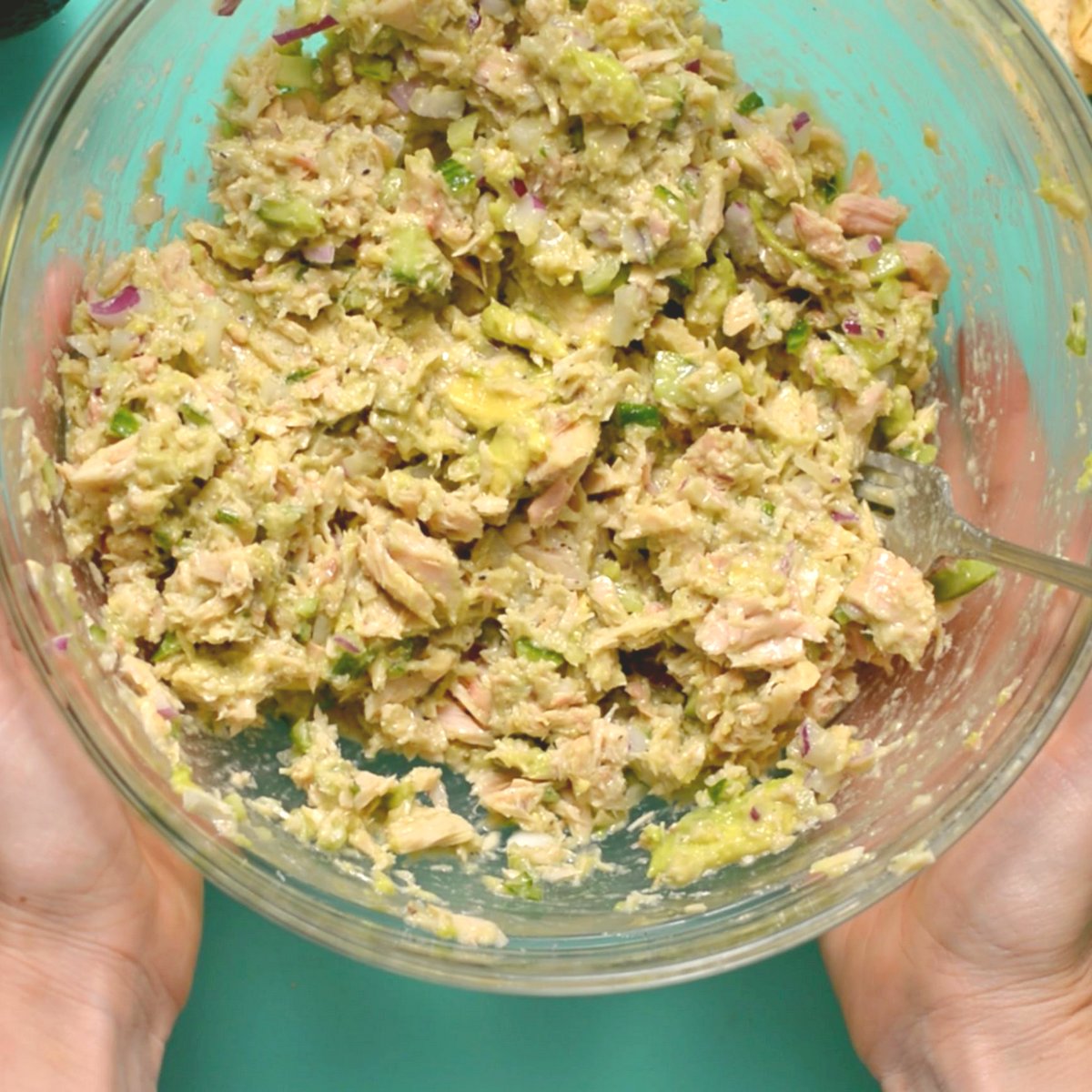 Step two: Mix
Mix all the filling ingredients in a large bowl until well combined. I like to mash the avocado in the bottom of the bowl first to better combine it.
Step three: Serve
Enjoy alongside your favorite drink, maybe an Avocado Limeade?!
watch how to make this - step by step
expert tips for a joy-filled experience
To make sure this recipe goes off without a hitch, here are a few key tips!
Use a ripe avocado
The avocado must be soft enough to mash with a fork. Not only for an easier recipe, but also because it is taking the place of some mayo so it needs to mash up super creamy. So, a fresh avocado is key!
Drain tuna
Tuna is packed in water obviously but sometimes it can be hard to drain all of the water out of the can. To help this process, I like to drain it in the can, then pour the tuna out onto a plate lined with paper towels to absorb any excess liquid.
Eat it soon
This sandwich is best enjoyed fresh because avocados tend to brown quickly. Even with the impending browning, I'd like to make this meal prep.
Prevent browning
If you will not be eating this right away, use plastic wrap to help extend the color. Press plastic wrap onto the top (touching it) as soon as you make the tuna filling and then store in the fridge until ready to eat.
common questions
Can I use avocado instead of mayo?
Yes, this recipe uses avocado to replace a lot of the mayo in a traditional tuna sandwich. That being said, we still use some mayo in this recipe to ensure the texture is what we want.
Can I use canned salmon instead of tuna?
Of course! Canned salmon is an excellent substitute for tuna in this recipe. It will provide a different flavor profile but will still pair well with the creamy avocado.
What are the nutritional benefits of avocados?
Avocados are a nutritional powerhouse! They are rich in heart-healthy monounsaturated fats, dietary fiber, and essential vitamins and minerals. They are a great source of vitamin E, vitamin K, and several B vitamins. Avocados also contain beneficial plant compounds and are known to support healthy digestion and lower bad cholesterol levels.
more ways to use avocado & tuna
Even though this recipe is already a twist on the classic tuna salad sandwich, here are a few more fun variations!
Avocado Egg Tuna Salad: Add hard-boiled eggs to the avocado tuna salad for an extra protein boost and a delightful combination of flavors. You can use two eggs, finely chopped, and mix them into the salad.
Mayo Avocado Tuna Melts: Transform your avocado tuna salad into a deliciously melty sandwich by spreading the mixture onto whole grain bread slices. Top with a slice of Havarti cheese and broil until the cheese is bubbly and golden.
Mediterranean Tuna Salad: Give your tuna salad a Mediterranean twist by adding chopped Kalamata olives, diced tomatoes, and crumbled feta cheese. Drizzle with olive oil and a squeeze of lemon juice for a burst of freshness.
storage tips
Even though avocados turn brown quickly, this filling still keeps well with a few tricks to keep this easy avocado tuna salad recipe fresh!
Fridge: To store the avocado tuna salad, transfer it to an airtight container and refrigerate for up to 2 days. Remember to press plastic wrap directly onto the surface of the avocado mixture to prevent browning.
Freezer: It is not recommended to freeze the avocado tuna salad, as the creamy texture of the avocado may become compromised.
Reheating: If you have leftover tuna salad, simply enjoy it cold. Avoid reheating it, as the avocado may become mushy.
Ways to Use Leftovers
For a fun way to use any leftovers of the delicious sandwich filling try these fun recipes!
Avocado Tuna Salad Lettuce Wraps: Scoop the leftover tuna salad onto large romaine lettuce leaves, roll them up, and secure with toothpicks. It's a refreshing and low-carb option for a quick meal or a light snack.
Avocado Tuna Salad Stuffed Bell Peppers: Halve bell peppers, remove the seeds, and stuff them with the leftover tuna salad. Bake in a preheated oven at 375°F (190°C) for 15-20 minutes until the peppers are tender and the filling is heated through.
Tuna Melt Recipe: I guess these are technically tuna avocado melts. To make them, place this mixture on sourdough with cheese and heat in a pan with butter or oil. Cook for 2-3 minutes on each side until golden brown.
fun fact
First off, tuna is a massive fish (like 2000 pounds large) and I always forget how big it is because it is packed in such tiny tins. They are considered the Ferraris of the ocean because they are sleek, powerful, and made for speed. They can grow up to 10 feet long and swim up to 43 miles per hour! (source)
what can be served with a tuna sandwich?
Glad you asked! Here are some of our favorite pairings!
Did you try this and love it? Leave us a ⭐️ rating, we would love to hear from you!
Recipe
Print Recipe
easy avocado tuna sandwich recipe (only 6 ingredients!)
Need a quick, delicious, and healthy lunch? Try this Avocado Tuna Sandwich! This sandwich is packed with protein, laced with crunchy cucumbers and tangy red onion, and has the perfect creamy texture thanks to an avocado!
Ingredients
8

slices

sourdough

toasted

1

avocado

ripe

3

cans

tuna

packed in water

⅓

cup

mayonnaise

1

mini cucumber

or ⅓ of a standard cucumber

¼

red onion

¼

teaspoon

salt and pepper

of each
Instructions
Dice the onion and cucumber very small (¼"x¼"). Drain the tuna cans. Toast the sourdough bread. Add the avocado flesh to a large bowl and mash.

Add all the remaining ingredients (not the bread) to the bowl with the avocado and mix until well combined.

Divide evenly among the slices of bread to make and serve 4 sandwiches.
Notes
Nutritional Information is an estimate, for informational purposes only Substitution options and recipe tips can be found in the post above.
Nutrition
Calories:
684
kcal
|
Carbohydrates:
74
g
|
Protein:
40
g
|
Fat:
26
g
|
Saturated Fat:
4
g
|
Polyunsaturated Fat:
11
g
|
Monounsaturated Fat:
9
g
|
Trans Fat:
0.04
g
|
Cholesterol:
54
mg
|
Sodium:
1319
mg
|
Potassium:
742
mg
|
Fiber:
7
g
|
Sugar:
8
g
|
Vitamin A:
237
IU
|
Vitamin C:
8
mg
|
Calcium:
111
mg
|
Iron:
8
mg